Seriously. Trust me. Some of you have shown fear at the thought of beans in your brownies.. and for you, I have an alternative and perfectly delicious recipe! This recipe is a family favorite and I'm confident your littles will have no idea that there are some mean (and green) components to their new favorite "dessert."
All you need is your favorite blender, a handful of health foods, and a sprinkle of chocolate to make this hassle-free brownie recipe.. and of course, a friend to enjoy it with!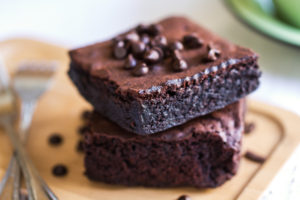 Guilt-Free Zucchini Brownie
2018-02-28 11:57:19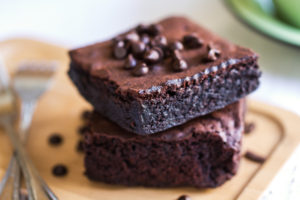 Ingredients
• ¾ c. all natural peanut butter (almond or cashew, if paleo)
• 1 small zucchini (about 1 cup)
• ¼ c. cocoa powder
• 2 tbsp. flax meal
• ¾ tsp. baking soda
• ¼ c. mini chocolate chips
• Salt, to taste
• 3 Medjool dates
• 1 small container unsweetened applesauce (4 oz.)
• 1 tsp vanilla
Instructions
Preheat oven to 350 degrees. Place all ingredients, except chocolate chips, into blender and blend until smooth. With a spoon, stir in 2 tbsp. of chocolate chips. Pour into greased 8 x 8'' baking pan. Sprinkle the remaining 2 tbsp. of chocolate chips on top. Bake for 30 minutes.
Fit-Fierce https://fit-fierce.com/