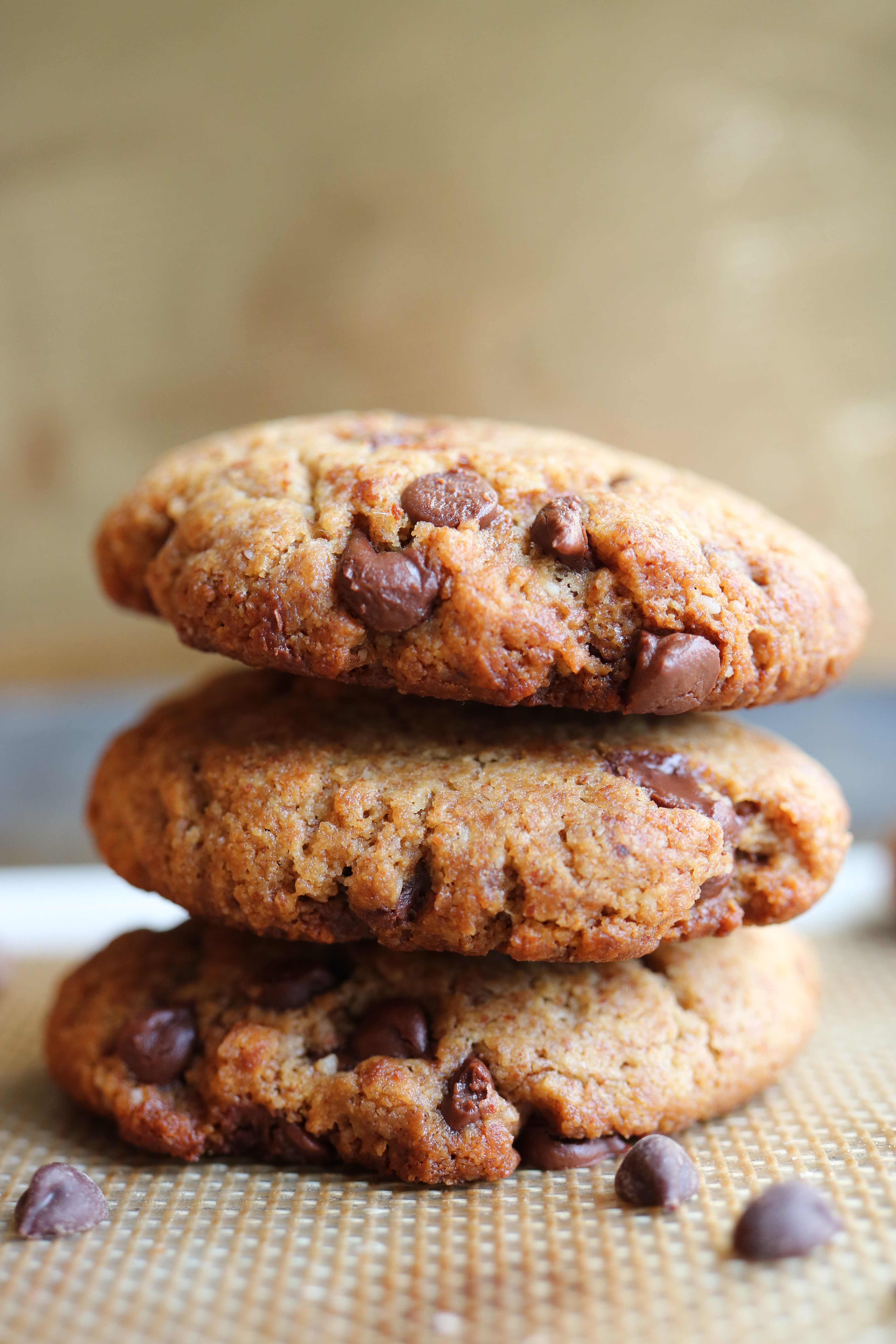 It has taken most of my adult years to try and perfect a healthy chocolate-chip cookie. After hundreds of failed attempts, I can finally say..these are the world's best grain-free, peanut-free, and refined sugar-free, classic chocolate chip cookies! This recipe will please the healthy eater and it's counterpart, alike!
With a handful of ingredients, a blender, and 15-20 minutes of your time, you can make the perfect (and classic) chocolate chip cookie! When removing flour and sugar from a cookie recipe, it is nearly impossible to create the perfect texture. Until now! The addition of a little extra butter crisps the almonds just enough to provide a perfect crunch. A small dab of honey gives the desired level of sweetness, without the downside of sugar. Lastly, chocolate chips provide just the hit you need to feel satisfied!
The downside to this recipe is that it truly only works with homemade almond butter. The upside is.. if you have homemade almond butter, this recipe is only a handful of ingredients. Once you try them, making homemade almond butter will seem like a small task required to make, only the worlds greatest, (healthy) chocolate chip cookies!
Note: According to Harvard Health, almonds contribute to lowering LDL and total cholesterol. Additionally, they exert an anti-inflammatory effect, provide antioxidants, support the growth of beneficial gut bacteria, and interfere in the absorption of cholesterol (when replacing refined carbohydrates), as in this fabulous cookie recipe! Despite being calorie dense, research actually shows that almonds are associated with less weight gain and a lower risk of obesity! What's not to love?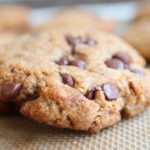 World's Best Paleo Chocolate Chip Cookie
Ingredients
1

16 oz. bag

Raw Almonds

2

tbsp

Organic, Grass-fed Butter

melted

1

Egg

1

tbsp

Raw Honey

1/8

tsp

Sea Salt

1

tsp

Baking Soda

1

tsp

Baking Powder

3

tbsp

Dark Chocolate Chips, mini

1

tbsp

Avocado Oil
Instructions
Preheat oven to 375.

Place honey and butter in microwave safe bowl and warm until melted. Set aside.

For homemade almond butter, place 16 oz. almonds and avocado oil into high-powered blender and puree on high, using push-down stick until the nuts are completely pureed. Otherwise, place nuts and oil into food processor to create nut butter. The texture will not be runny, as almonds tend to create a thicker nut-butter. You may have to scrape down the sides a few times. Only half of the nut butter will be used for this recipe. The other half can be used for dips, toast, or another batch of cookies (of course!).

Add 1 cup almond butter, honey and butter mixture, egg, sea salt, baking powder, and baking soda into bowl and blend with mixer. Stir in chocolate chips. If batter is too warm, place in fridge for 5-10 minutes. (You don't want the chocolate to melt before it goes in the oven).

Use a flattened tablespoon and measure out cookie dough onto baking pan. Roll into balls and press down into pancake shapes. The dough won't flatten much more than you shape it, so create into shape you prefer, prior to baking.

Bake for 10 minutes and seriously E-N-J-O-Y!
References:
Almonds. (2018, May 31). Retrieved from https://www.hsph.harvard.edu/nutritionsource/food-features/almonds/