We all want to achieve different results, but we certainly cannot do that by living the same ol' way. Sure, we can all make change for a short time, but after a while, fatigue sets in. We want our old way of life back. But, do we really? Fast and convenient may not be worth it when the cost is our health, our energy, and our vitality. Age does not have to bring decline!
So, that being said, what if I told you that you could eat foods that pack a punch of fuel, assist in digestion, cleanse your liver and your skin, and leave you feeling full and energized (versus the all-too-familiar, full and lazy)? What if I told you that this meal would invest life into your years (versus years in your life)? Sure, it may do both, but I am more concerned with living well, while I'm alive. How many people do we know that live until they are 80, but actually begin to die at 60? How far would you go to achieve this perfect meal? Would you spend an extra 5 minutes preparing it for the day, or an extra 30, preparing it for the week? I sure would!
The beauty of this preparation is that it can be done in a variety of ways with a multitude of color. As you shop, think "rainbow." Red tomatoes, orange sweet potatoes, yellow peppers, a mix of greens, a handful of purple cabbage, white cauliflower. Different colors provide different phytonutrients and antioxidants! It's really that simple! Below you will find a quick and simple mix to get you started!
Notes:
WHY GLASS? Did you know that all plastics have toxic components? It was recently revealed that BPA in plastic was associated with early puberty and a rise in breast and prostate cancers. The BPA in our water bottles, plastic utensils, storage containers, straws, etc. are leaching into our food. Well, when this was discovered, companies were quick to come out with BPA-free everything. Guess what? BPA was replaced with BPS which has shown to be even more harmful! Your safest bet is to slowly replace all the plastic in your life! Here are some resources to get you started:
These fabulous glass (toxin free) food storage containers are what we use to store our weekly veggie bowls. These awesome containers have 2 compartments to separate your greens from the other veggies. This prevents the greens from getting soggy. The containers are dishwasher, oven, and microwave safe, come with labels and additional sauce cups for your dressing. The company provides a 120% money-back guarantee. What more could one need? These containers also work great to separate yogurt from berries, veggies from hummus, fruit from nuts, etc. Additionally, these cute miniature 2 ounce glass mason jars work great for leak-proof storage for your dressing. Not to mention, they are also great for spices, baby food storage, pill storage, homemade lip balms, lotions, etc.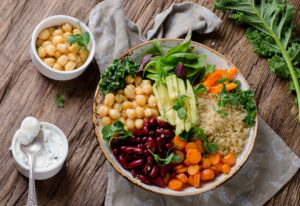 Detox Bowl With Homemade Ranch Dressing
2018-02-27 19:07:58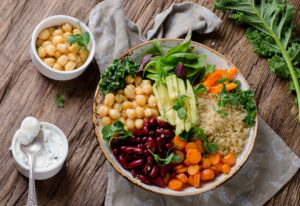 Ingredients
• 1 C. kale, chopped
• 1 15 oz. can chickpeas, drained and rinsed
• 1 15 oz. can kidney beans, drained and rinsed
• 2 large carrots
• 1 C. cooked quinoa
• 1 orange bell pepper, sliced
• 1 C. mixed power/bitter greens
• 1 avocado, sliced
• Optional: Lemon and feta cheese
• homemade ranch
• 1 C. whole fat sour cream
• 1 tsp garlic powder
• 2 tsp dried oregano
• ¼ tsp Himalayan sea salt (or to taste)
Instructions
Arrange all ingredients into individual mason jars/glass food storage containers for the week. For the dressing, whisk the sour cream with garlic powder, oregano, and salt. For a thinner texture, whisk in olive oil or lemon juice. Top on salad and enjoy!
Additional or alternative toppings
Smoked salmon, poached eggs, mozzarella cheese, cabbage, sunflower seeds, pumpkin seeds, pistachios, brussels sprouts, fresh salsa, black beans, micro greens, alfalfa sprouts, sugar snap peas, black eyed peas, roasted butternut squash, roasted red potatoes, endive, hummus, pesto, and the list goes on!
Fit-Fierce https://fit-fierce.com/
Resources:
Schmidt, E. (2016, February 01). Chemical used to replace BPA in plastic accelerates embryonic development, disrupts reproductive system. Retrieved February 27, 2018, from http://newsroom.ucla.edu/releases/chemical-used-to-replace-bpa-in-plastic-accelerates-embryonic-development-disrupts-reproductive-system