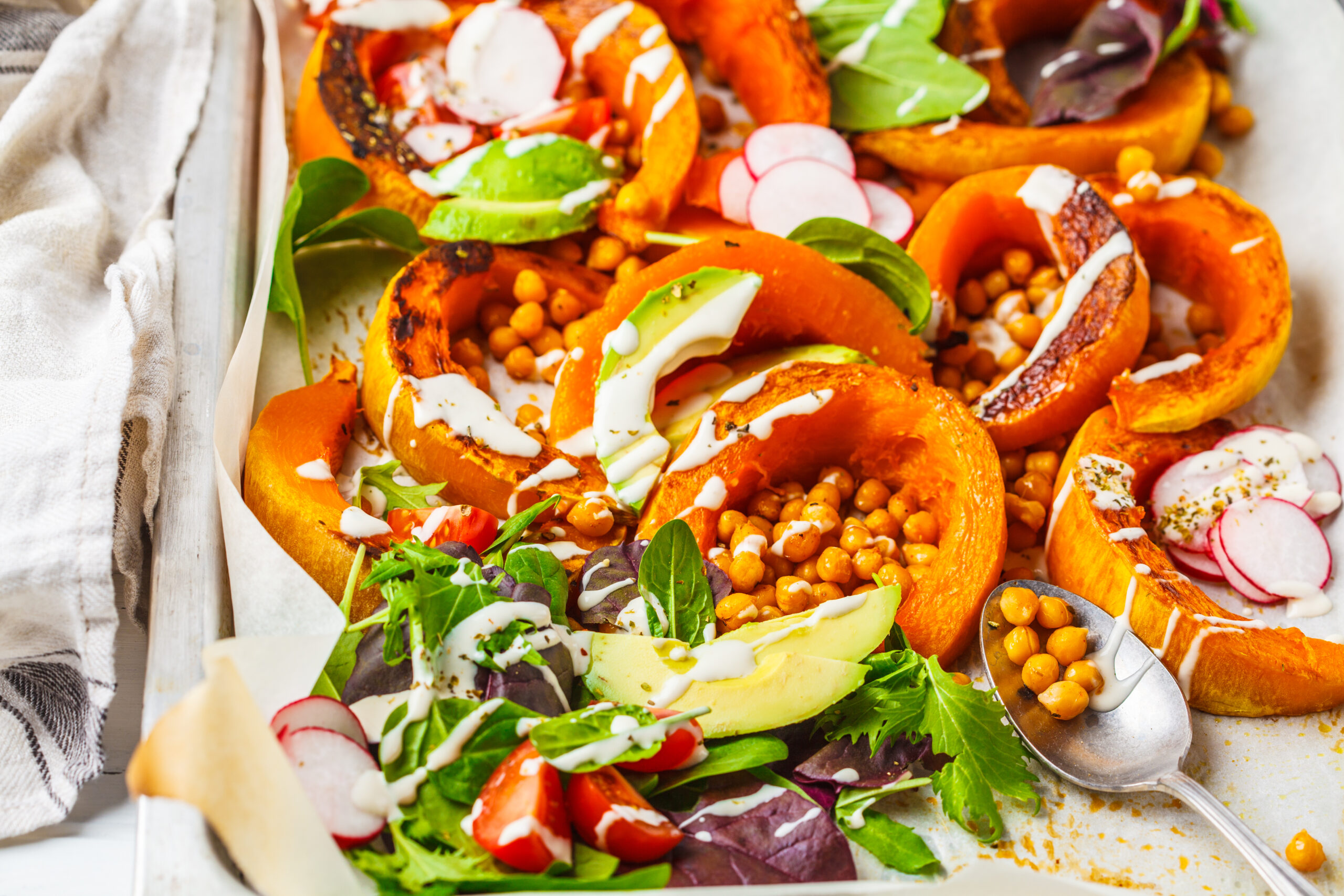 This meal gives new life to the letters S-A-L-A-D. Sweet and savory pumpkin is loaded with beta-carotene, helping to prevent and reverse oxidative damage to your cells. Pumpkin is also loaded with vitamin C, which helps white blood cell production, wound healing, and collagen in your skin! Pumpkin is also a food ninja to protect your eyesight! In a review of 22 studies, scientists found that individuals with higher intakes of beta-carotene had drastically lower risk of cataracts. In other words, go big or GOURD home!
Cherry tomatoes, radish, mint leaves, avocado, mixed greens and chickpeas jump on board with roasted pumpkin to make a deliciously satisfying vegan meal, full of flavor! Dean Ornish, MD, and others, have shown that a plant-based diet, along with regular exercise, can prevent, delay and even reverse cardiovascular disease! This meal shows up with a rainbow of color, a plethora of fiber, sprinkled with antioxidants and bursting with flavor. It is free from all animal products and the best part? It leaves you full! Lemon, mint, oregano, buttery avocado, savory coconut aminos, and fresh veggies create an experience for the palate. What are you waiting for?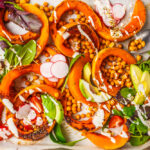 Roasted Pumpkin Salad With Tahini Dressing
This quick and savory veggie-based meal will have you satiated and energized!
Ingredients
1

whole

Pumpkin

washed and sliced

1

handful

Mint Leaves

chopped or whole

1

cup

Mixed Greens

1

bunch

Radish

1

whole

Avocado

1/2

cup

Cherry Tomatoes

1

15 oz. can

Chickpeas

packed in water only and drained

2

tsp

Dried Oregano

1

tbsp

Olive Oil

Sea Salt

to taste
Tahini Dressing
1/3

cup

Tahini

1

tsp

Garlic Powder

1

tbsp

Coconut Aminos

3

tbsp

Water

1

tbsp

Lemon Juice
Instructions
Preheat Oven to 400 degrees F.

Slice pumpkin and remove seeds. Chop pumpkin into cubes or slivers, depending on your preference. Add to roasting pan.

Drain chickpeas and add to roasting pan.

Drizzle 1 tbsp olive oil over pumpkin and chickpeas and sprinkle with sea salt, to taste.

Roast for 15-20 minutes until soft and tender when stabbed with a fork, but crispy on the outside. Set aside to cool.

While the veggies are cooling, mix together 1/3 cup tahini, 1 tsp garlic powder, 1 tbsp coconut aminos, 3 tbsp water and 1 tbsp lemon juice. Set aside.

Add the remainder of the ingredients (except dried oregano) to a salad bowl and gently fold in the roasted veggies. Drizzle with tahini dressing and sprinkle the dried oregano on top. Find someone you love to share it with and make great conversation!