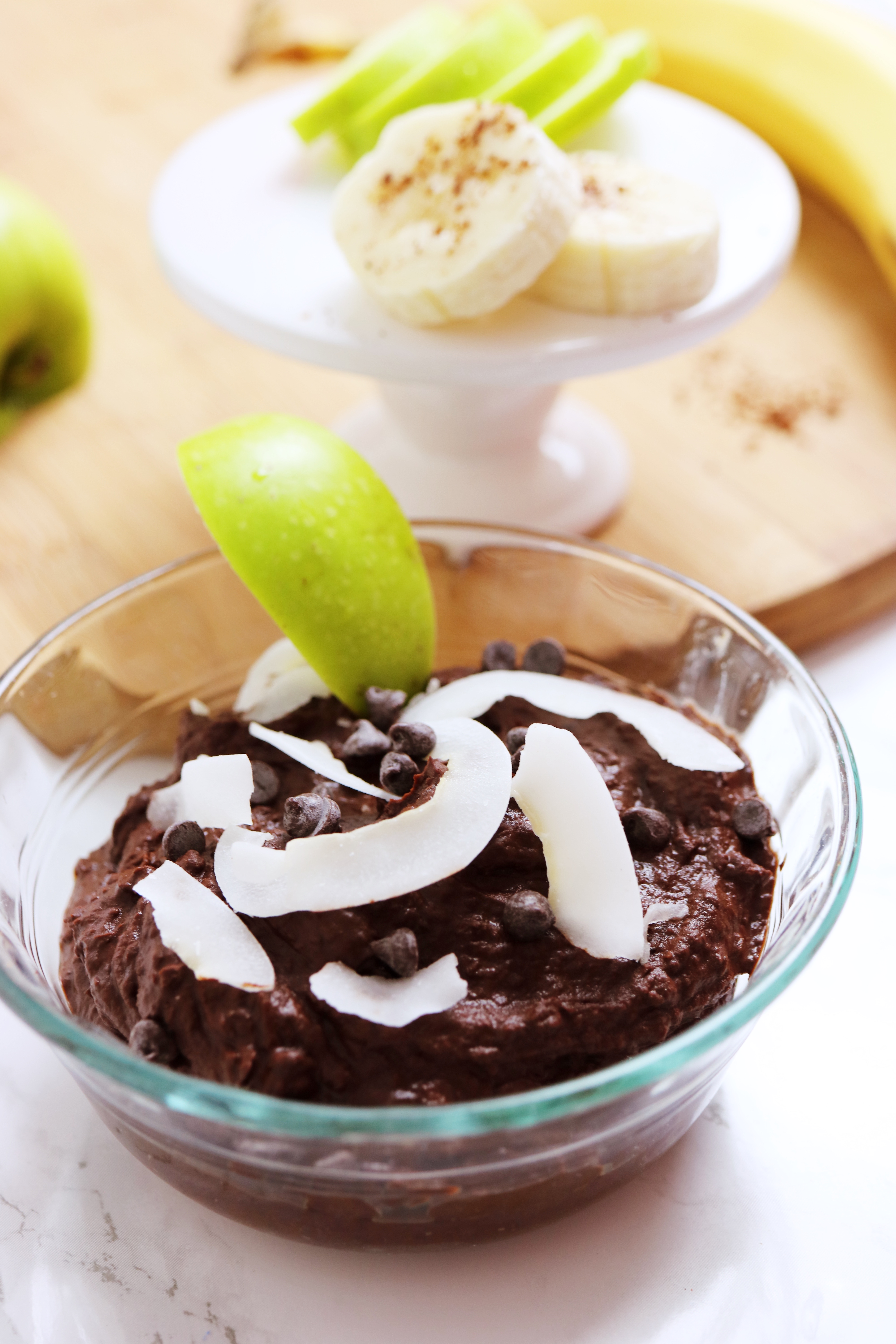 As a mom, being able to whip up a healthy dessert , with only 4 ingredients, in less than two minutes, is equivalent to having a super-power. This chocolate hummus is even packed with protein and free from nuts. So, yes, you can also pack it into school lunches!
The texture of the black beans adds a layer of creaminess. The cocoa powder provides enough of a fudge-fix to cover up any trace of beans. Lastly, if you're up for it, the cinnamon gives a nice aroma of winter! Gather your 4 ingredients, puree in a high-powered blender, top with whatever you have, serve with your favorite fruit. BOOM.
How to Eat
Slice a butternut squash or sweet potato nice and thin. Pop into toaster until soft and a little toasty. Layer with chocolate hummus and enjoy.
Slice up a mixture of your favorite fruit and serve with fondue sticks.
Replace the traditional peanut butter sandwich with chocolate hummus, or better yet, just add the chocolate to the peanut butter! That sounds like a perfect marriage to me.
Topping Ideas:
Chocolate Chips
Slivered Almonds
Natural Sprinkles, for a special occasion! Choose sprinkles with cane sugar (rather than high fructose corn syrup) and no artificial colorings/preservatives.
Who said dessert has to be painful to make, expensive to create, or expansive to your hips? You're welcome.
Chocolate Hummus
2018-09-06 12:06:38
Ingredients
1 Can Black Beans, rinsed and drained
4 Tbsp Unsweetened Cocoa Powder
1 Tsp Vanilla
1 Tbsp Honey (Or more, if desired)
2 Tbsp Water
Instructions
Place all ingredients into blender and blend until smooth! Enjoy with sliced apples, strawberries, bananas, peaches, pears, or in place of nut butter on your favorite grain or root vegetable.
Notes
**Feel free to add more honey/maple syrup to achieve desired sweetness. Our household tends to prefer less, but adjust to taste!
**If you are avoiding sugar, try soaking 2-3 dates in hot water. When softened, mix into hummus in place of honey. Additionally, 2 teaspoons of cinnamon adds a lovely twist on this recipe!
Fit-Fierce https://fit-fierce.com/
Like the idea of sneaking beans into you're favorite recipes? Try our
Black Bean Brownie
and
(Navy Bean) Blondie With a Twist
.