Fiber isn't typically what comes to mind when one contemplates dessert. This recipe certainly changes that! Loaded with fiber, healthy fats, and iron, thus, these treats are sure to impress moms all over the world! Equally delicious is the vegan version of this recipe in which you replace the egg with a chia or flax egg and use vegan chocolate chips. Why beans? First, navy beans are an extremely high source of fiber, low in fat and high in protein. Most importantly, they have even been highlighted as a cancer-fighting food! Furthermore,
"A large body of cancer prevention research has focused on fruit and vegetable consumption, yet emerging evidence shows that legumes, specifically common dry bean, are bioactive staple foods for CRC chemoprevention" (Borresen et al., 2014)
Reference:
Borresen, E. C., Gundlach, K. A., Wdowik, M., Rao, S., Brown, R. J., & Ryan, E. P. (2014, May). Retrieved from https://www.ncbi.nlm.nih.gov/pmc/articles/PMC4082309/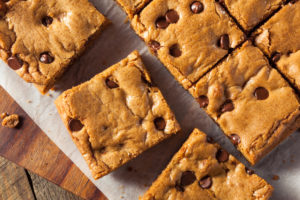 (Navy Bean) Blondies with a Twist
2018-07-28 16:10:26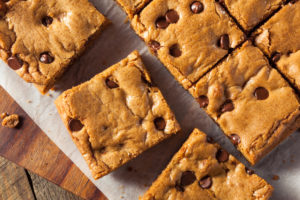 Ingredients
• 15 oz. can of navy beans, rinsed
• ½ cup unsweetened peanut/almond/cashew butter
• 1 tbsp honey
• ½ tsp sea salt
• 2 teaspoons vanilla
• 1 egg
• ¼ tsp baking soda
• ¼ tsp baking powder
• ¼ c. mini chocolate chips
Instructions
Preheat oven to 350 degrees (F). Place all ingredients, except chocolate, into blender. Blend until smooth. With a spoon, mix in 1/2 of the chocolate chips. Pour into greased, 8 x 8 inch pan. Sprinkle the remaining chocolate chips on top. Bake for 20-25 minutes. Let cool, cut, and enjoy!
Fit-Fierce https://fit-fierce.com/