My guess is, when you think of brownies, the last word that comes to your mind is… black bean. WELL, not anymore! The beans in this recipe add a significant amount of fiber, iron, manganese, and antioxidants! That's right, you can thank me now! Brownies for antioxidants! The soluble fiber that this recipe contains, may even contribute towards lowering cholesterol. AND, did you know that although the majority of us know the benefits of increasing legume consumption, only 8% of Americans eat them daily? That's probably before America knew about bean brownies! The benefits of legume consumption range from management of blood sugar and hyperlipidemia to hypertension and weight management! So, let the party begin! Who said dessert had to be bathed in guilt?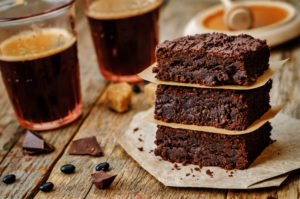 Ingredients:
1 can (15 oz.) organic black beans, rinsed
2 tbsp cocoa powder, unsweetened
1/2 cup rolled oats
1/4 tsp salt
1/3 cup pure maple syrup (or less, depending on personal preference)
1/4 cup coconut oil
2 tsp pure vanilla extract
1/2 tsp baking powder
1/4 to 1/2 cup mini chocolate chips
Directions:
Preheat oven to 350 degrees. Place all ingredients, except chocolate chips, into blender. Puree, manually stir in chocolate chips, pour into 8 x 8 greased baking pan. Bake for roughly 15-20 minutes. Let cool prior to cutting! These brownies store extremely well in the freezer! I recommend freezing the entire pan, then taking out to cut into nice squares, and storing them back into the freezer. This makes for a mess and crumble free cutting experience.
References:
Polak, R., Phillips, E. M., & Campbell, A. (2015, October). Legumes: Health Benefits and Culinary Approaches to Increase Intake. Retrieved January 30, 2018, from https://www.ncbi.nlm.nih.gov/pmc/articles/PMC4608274/