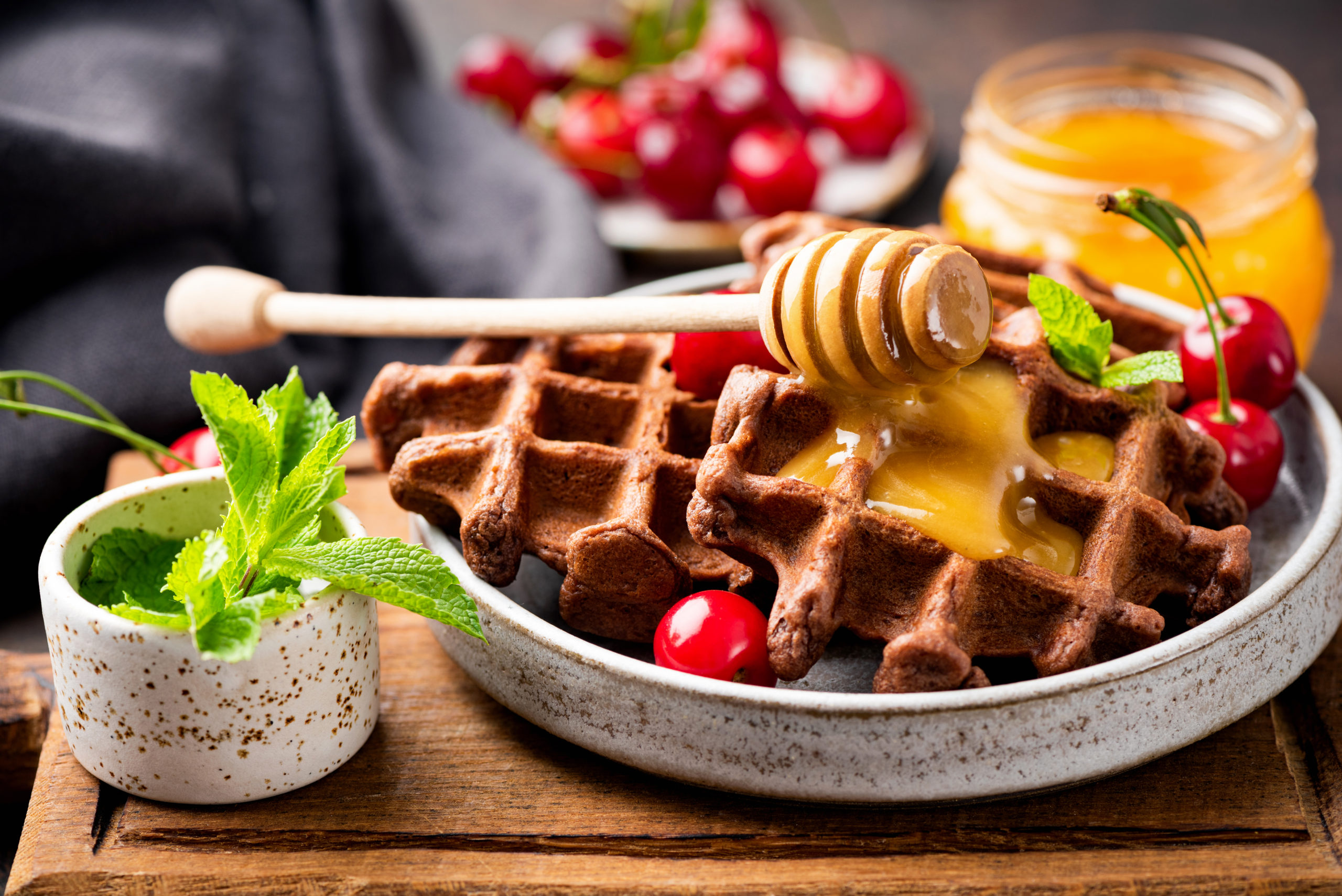 These delicious waffles are grain-free, nut-free, dairy-free and egg-free. So, what's left? Honestly, I don't know, but they come out as pure caramelized goodness! These can be made ahead of time, frozen, and reheated in the toaster. Kids adore them, adults can feel guilt-free about having them for breakfast or dessert, and your house-guest with every known food aversion will be delighted, all the same. The best part is, the plantains provide the perfect amount of sweetness and one doesn't even feel the need to bathe these in maple syrup. Let's get started, shall we?
What's the deal with plantains?
Plantains might be confused for a very large banana. Although they belong to the banana family, they are starchier, less sweet, and are often cooked prior to eating. Commonly used as staple foods in South America and Africa, this food item is becoming increasingly popular in the United States, as we learn how to incorporate them into our kitchens.
Like beans, plantains contain a resistant starch. This is a fancy term for a carbohydrate that doesn't fully digest in the small intestine. Eaw? Not so much. This process actually allows the food to make it to the large intestine where it provides a great food source (or prebiotic) for the good gut bacteria, allowing it to more easily replicate, thus improving overall gut health. Along with a decent amount of fiber, plantains help stabilize blood sugar, and might even contribute to lowering blood pressure (Brennan, 2020).
Notes: These can be prepared in any waffle maker. However, I am often asked what works best for my family, so here it is. Need to justify spending this amount on a great waffle maker? I sure did. Here is a list of 25 surprising food items you can make in your waffle machine, besides waffles. From eggplant parmesan to frittatas, or even baked desserts, it can be done.
Another common question is regarding the source of gelatin I prefer. After much research, it boils down to Dr. Myers. Hands down, the best! And bonus, it lasts forever.
Ingredients
3

Whole

Plantains, ripe

5

Tbsp

Coconut Oil

1/2

C.

Arrowroot

4

Tbsp

Coconut Flour

3

Tbsp

Water

2

Tsp

Gelatin

2

Tbsp

Coconut Sugar

2

Tbsp

Apple Cider Vinegar

1

Tbsp

Cinnamon

1/2

Tsp

Baking Soda

1/2

Tsp

Sea Salt
Instructions
Melt coconut oil and mix all wet ingredients in mixer until smooth and only small chunks of plantain remain. Add in dried ingredients and stir just to combine.

Pour into waffle iron and set to desired cooking time. These taste best with a slightly longer cooking time. However, be sure not to burn them! These waffles will crisp as they cool. So, be patient and then dig in! Top with fresh fruit, coconut whipped-cream, nut butters, fruit compote, or baked apples.
Like this recipe? You might also like Golden Milk Frappuccino, Mint & Cacao Super Smoothie
Brennan, D. (2020, September 17). Plantain: Health Benefits, Nutrients per Serving, Preparation Information, and More. Retrieved January 05, 2021, from https://www.webmd.com/diet/health-benefits-plantains