First of all, they taste like a mix between a cherry and a dried cranberry. More importantly, they have the nutritional profile of a rock star! Ounce for ounce, they have more vitamin C than an orange! In the midst of flu season, it's time to befriend these little berries to help boost immunity and ward off foreign invaders. Additionally, Goji berries have an extremely high ORAC score, which indicates it's ability to work as an antioxidant and fight off those harmful free radicals (hence the anti-aging claims that have accompanied this fruit for centuries). It also has 11 amino acids, which your body considers essentials, since you cannot concoct them. Note that it is very rare for a fruit to have ANY amino acids.. as these usually come from animal protein. Lastly, these sweet little berries have a great dose of selenium and potassium, both of which are extremely important in the body. Potassium is important for heart and muscle function and selenium has been known to rid the body of heavy metals. Have I left you with any reason not to give Goji berries the starring role in your next meal/snack?
How to Enjoy them!
Below is a Goji Berry and Pistachio Granola Bar recipe. Besides a treat for your tongue, this recipe is loaded with phytonutrients, fiber, and protein. Did I mention it's low-glycemic and won't negatively impact blood sugar? This treat can be frozen and enjoyed straight out of the freezer as a snack that even kids will love. Additionally, we break it up, sprinkle on top of yogurt and make a parfait (with fresh fruit of course). Lastly, this can be crumbled, mixed with milk or a dairy alternative of choice, and enjoyed for breakfast.
Note: Make sure the Goji Berries you purchase are organic and sulfite-free! Secondly, an 8×8 inch pan works best for the thickness of this recipe. We use a silicon pan for non-stick, which comes with a steel base to hold the shape of these bars. However, any 8×8 inch pan will do!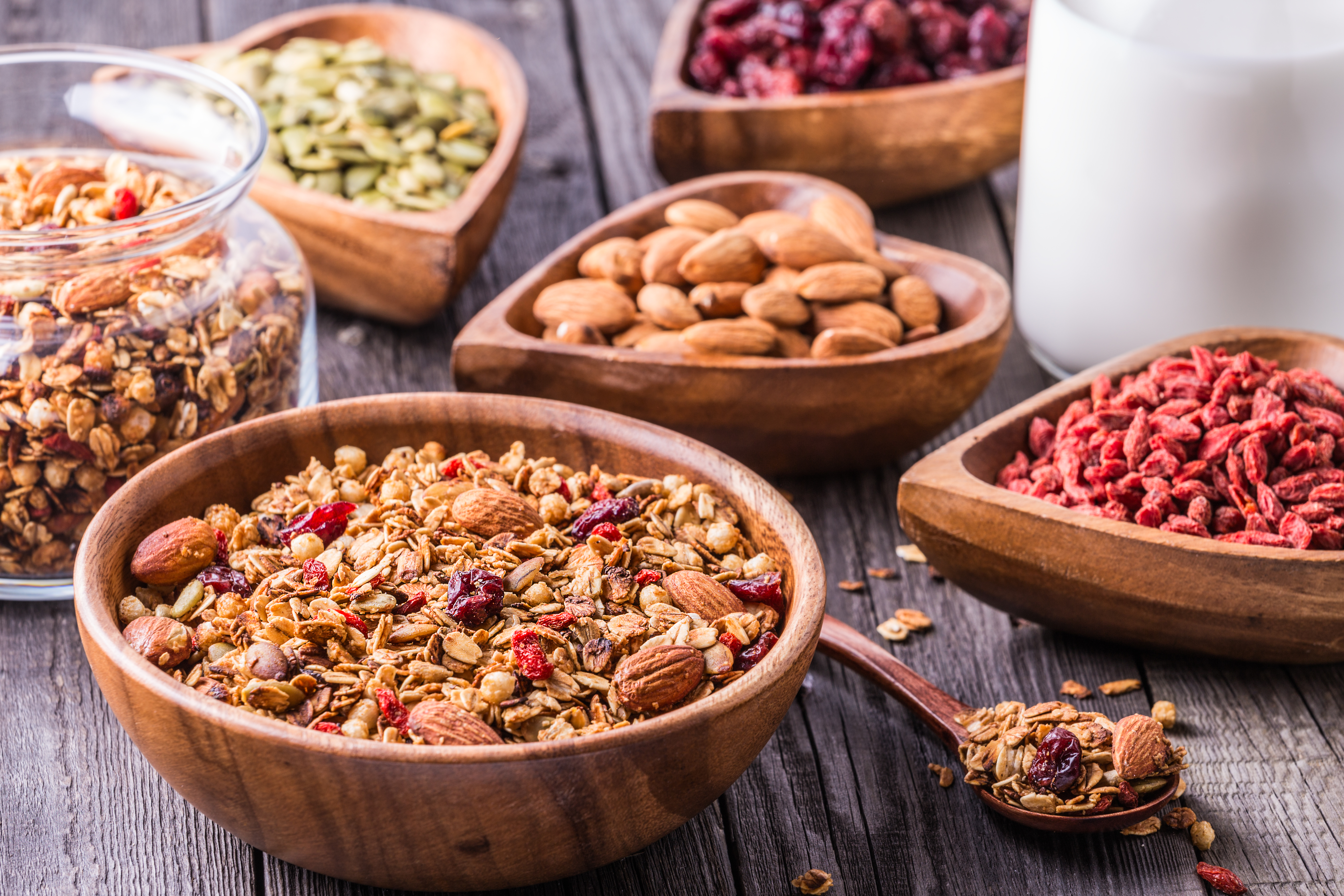 Goji Berry & Pistachio Granola Bar
2018-02-14 11:54:56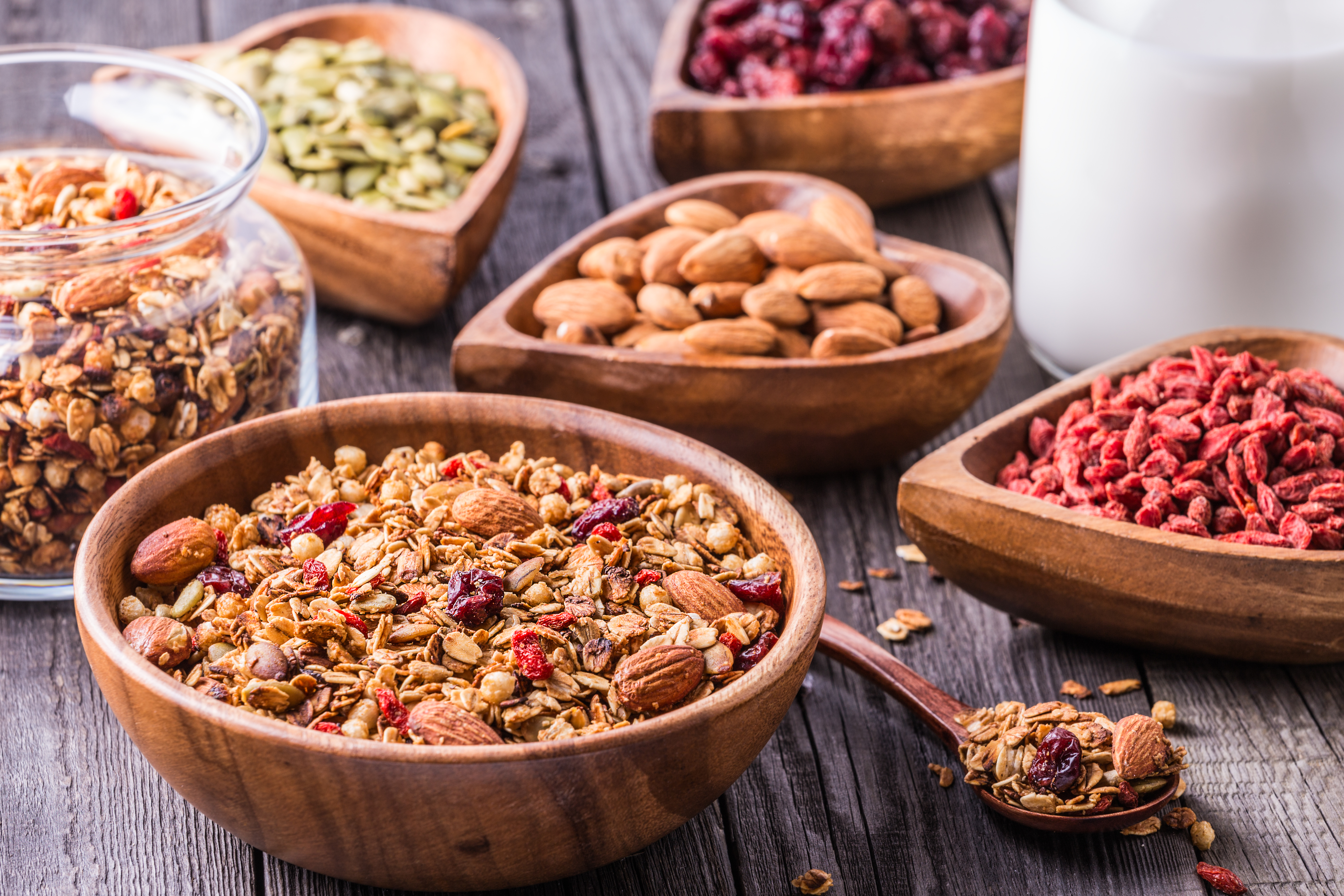 A nutrient rich snack to ward off cold season!
Ingredients
• 2 C. Rolled Oats
• 1/3 C. Shelled and Salted Pistachios, chopped
• 3 Tbsp. Organic flax meal
• 3 Tbsp of Manuka Honey (This can be doubled to make granola bars instead of crumbly
granola)
• 2 Tsp. Organic Vanilla
• 2 Tbsp. cold pressed, unrefined and organic Coconut Oil
• 2.5 Tbsp. of organic Almond Butter
• ¼ C. dried organic Goji Berries
Instructions
Mix dried ingredients and goji berries together in a bowl. Set aside. Place the honey, vanilla, coconut oil, and almond butter in a pan on medium heat. Mix constantly for 1-2 minutes until fully melted. Pour the wet ingredients on top of the granola. Mix until all the granola is fully coated. Place in non-stick pan (particularly 8x8) and press down with parchment paper until very compact. Cover and place in freezer for storage and enjoy the benefits of your super fruit!!
Fit-Fierce https://fit-fierce.com/