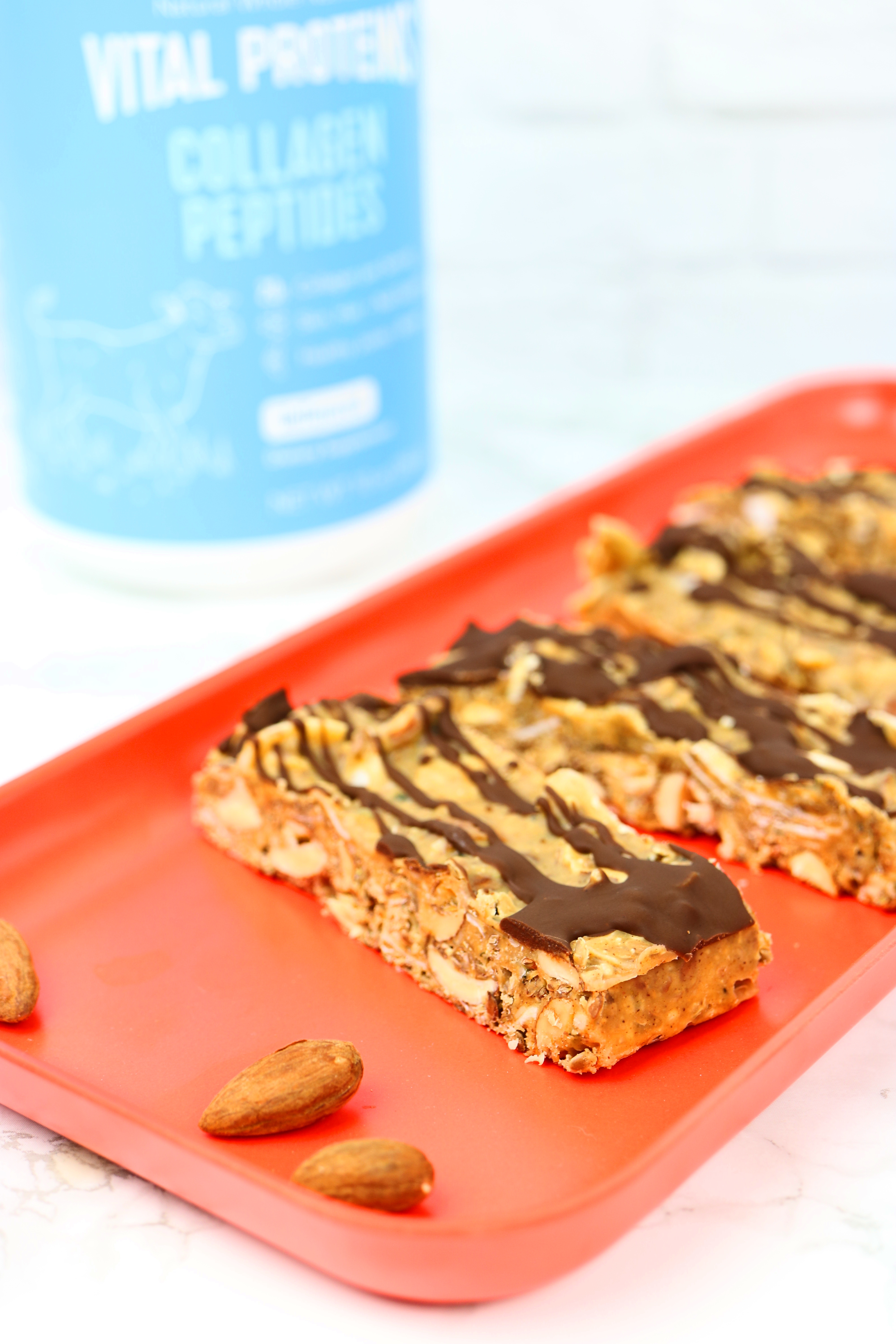 Not only are these incredible protein bars made with almond butter, coconuts, and a healthy serving of omega-3 rich flax seeds, but this protein bar is full collagen, and deliciousness. Is it dessert? Is it a snack? Is it breakfast? In a word, it's all of them! By and large, the most common question we get asked by our patients: "What protein bar can I eat that isn't loaded with sugar or garbage?" In short, I haven't found one that meets my nutritional requirements or taste bud's desires. Until Now.
First off, you could certainly use any protein powder for these yummy protein bars. However, to keep the flavor neutral, we used this flavorless collagen powder. Additionally, what's great is that it can even be dissolved into coffee, baked goods, and smoothies, without changing the flavor of your food.
Why Collagen Peptides?
In essence, Collagen peptides are the building blocks to the body's connective tissue (hair, skin, nails, tendons, and joints). In other words, think of it as the glue that holds everything together! Hence, it has recently been touted for promoting glowing "vibrant" skin, promoting elasticity and hydration. Furthermore, as we age, our body produces less collagen, thus comes, the formation of wrinkles (think, lack of "glue") and dry skin.
Secondly, collagen has also been shown to alleviate joint pain. In fact, there was a study where adults took two grams of collagen, once daily, for 70 days. As a result, those who took collagen had a significant reduction in joint pain. Not to mention, they were better able to participate in physical activity, as compared to the non-collagen takers (Shauss et al, 2012).
Lastly, Dr. Mark Hyman, chairman of the board for the Institute of Functional Medicine and director of the Cleveland Clinic for Functional Medicine, even recommends using it in your morning smoothie. Of course, you can find that here.
To sum it up, collagen rocks!
Want the flavor of chocolate, without any sugar? We do too! Check out these chocolate chips, with nothing but 100% pure cacao.
Want to leave out the honey in this recipe? We've done that too! Simply replace with coconut oil.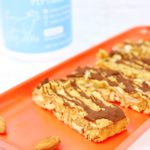 Ingredients
3/4

Cup

Almond Meal

6

Tbsp

Almond Butter or Peanut Butter

2

Tbsp

Chia or Hemp Seeds

3

Tbsp

Shredded, Unsweetened Coconut Flakes

1/4

Cup

Whole Flax Seeds

3/4

Cup

Collagen Powder

1

Tbsp.

Coconut Oil

1

Tbsp.

Raw Honey

Optional. Replace with coconut oil, if you wish to avoid.
For Chocolate Topping:
1

Tsp

Coconut Oil

3

Tbsp.

Chocolate Chips
Instructions
Place all ingredients into bowl and mix well. Place into silicon 9 x 5'' loaf pan. If you don't have a silicon baking pan, use any 9 x 5'' pan and line with parchment paper. Cover with parchment paper/large Ziploc bag and use a glass to roll flat.

Combine chocolate and coconut oil in microwave safe bowl. Microwave in 30 second intervals, (to prevent burning the chocolate) until melted. Stir between each 30 second set. Using a spoon, drizzle melted chocolate over protein bars. Place in freezer. When hardened, remove from freezer and cut into bars. Place back in freezer until ready to consume.

Note: Depending on the consistency of the nut butter, your mixture may come out more dry or too wet. If too wet, add more collagen powder, 1 Tbsp at a time until desired consistency is met. You may also chop up a handful of nuts for more texture! If too dry, consider adding 1 Tbsp of water, more honey, or more coconut oil to achieve the desired consistency.
Like this recipe? You might also like:
Caramel Pecan Pie Protein Bars
References:
Schauss, A. G., Stenehjem, J., Park, J., Endres, J. R., & Clewell, A. (2012, April 25). Effect of the novel low molecular weight hydrolyzed chicken sternal cartilage extract, BioCell Collagen, on improving osteoarthritis-related symptoms: A randomized, double-blind, placebo-controlled trial. Retrieved from https://www.ncbi.nlm.nih.gov/pubmed/22486722