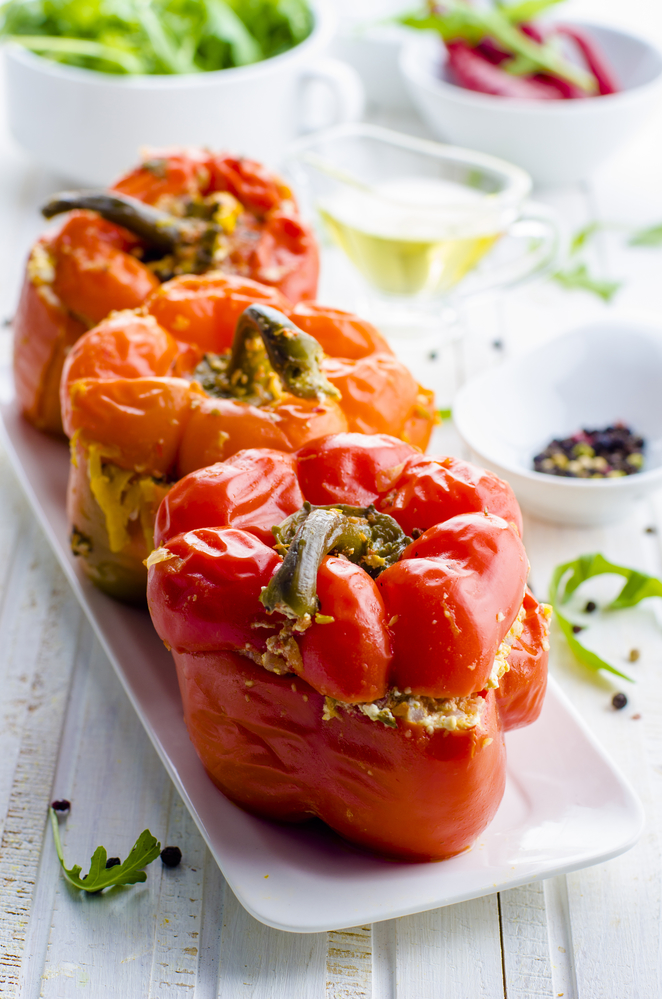 This simple 5 ingredient week-night dinner comes together with a surprising burst of flavor. It spares your kitchen a mess, comes together quickly, and looks like you spent the entire day slaving in the kitchen. A win-win! Bell peppers, quinoa, cheese, salsa, and beans. Who would think that this would make such a satisfying combination?
In fact, this dinner is so simple, that it's our go-to dinner every Halloween! Of course, we choose only orange bell peppers and cut cute pumpkin faces into them, but that's our prerogative! Taking only a few minutes of hand preparation and the rest is oven time. This gives enough time to get your ghosts and goblins dressed and out of the door, with tummies nourished.
Don't worry, all this goodness doesn't have to be cancelled out by high-fructose corn syrup! Did you know that you can donate your candy, in exchange for money? Nope, it's not too late! In your Google search type "donate halloween candy near me" and see what you find! Our local dentist office is involved in Operation Gratitude and sends our halloween candy to troops, overseas. Your child walks away with $1 per pound and mom is happy!
Chef's Note: Most grocery stores will offer frozen quinoa. This saves you extra time in the prep and all you need to do is heat it up! You can also purchase pre-shredded cheese and fresh-made salsa. Ensure your canned beans contain (on the ingredients list) only beans and water. You should have no preservatives or chemicals!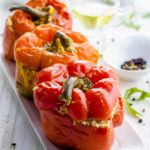 Meatless Mexican Stuffed Bell Peppers
Ingredients
4

Whole

Bell Peppers

Multi-colored

1

Can

Fat-Free Refried Black Beans

2

Cups

Quinoa

Cooked

1

Cup

Fresh Salsa

1

Cup

Shredded Mozzarella Cheese
Instructions
Slice the tops off of the bell peppers and set aside. Scoop out the seeds and hollow the inside of each bell pepper. If the pepper will not stand on it's own, slice a thin layer off the bottom of the pepper to help it stand.

Place the peppers on a baking sheet and bake at 400, until tender. This will vary by oven and should be around 15-20 minutes. While peppers are cooking, you can prepare quinoa, if it is not cooked.

Remove peppers from oven. Drop a good heap of black beans into the bottom of each pepper. Layer with the quinoa, a good helping of salsa, cheese, and repeat. Make the final layer cheese for a nice and crispy top.

Place peppers back into oven until cheese is nice and bubbly; roughly 10-15 more minutes.

Serve with optional: Fresh cilantro, avocado, sour cream, fresh cut lime, or purple cabbage.

ENJOY how such simple ingredients come together and create perfection!