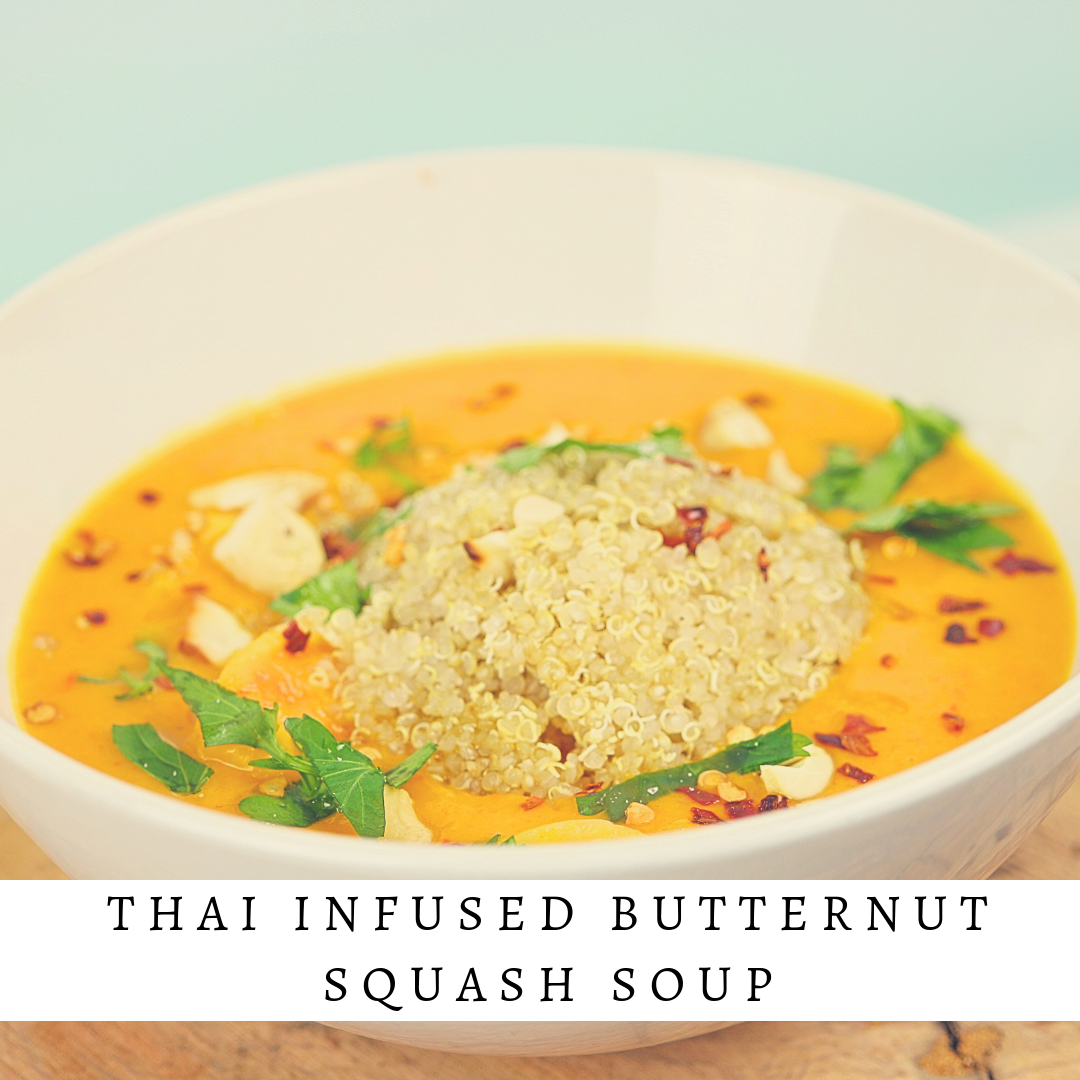 Bold, creamy, crunchy, tangy, but smooth. Spicy, sweet, and yet savory. Furthermore, this butternut squash soup is light and yet full. It's fresh and still filling. It's a snack and a meal. As a result, it's everything and all of it in one bowl. No other introduction is needed. What are you waiting for?
Sautee a mix of fresh vegetables, bathe them in creamy coconut milk and spice them up with a spoonful of flavor with this delicious (and preservative/garbage-free) thai seasoning. Puree in your all-time favorite blender. Lastly, top with a mix of quinoa, coupled with roasted cashews, for protein and crunch, basil for fresh flavor, red pepper flakes for spice, and drizzle with olive oil for fullness. In short, you will not regret a moment spent preparing this meal. I promise.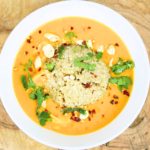 Golden Butternut Squash Soup
Ingredients
2

Whole

Shallots

Sliced

2

Whole

Garlic Cloves

Chopped

2

Tbsp

Fresh Ginger

Chopped

1

Medium

Butternut Squash

Peeled and Cubed

1

Tbsp

Thai Kitchen Red Curry Paste

2

16. oz Cans

Coconut Milk

1

Tbsp

Turmeric

1

lb

Shrimp

Peeled and Deveined

2

Cups

Quinoa

Cooked

1

Red Bell Pepper

Chopped

2

Tsp

Lemon Juice
Optional
1

oz.

Fresh Basil

1/4

Cup

Cashews

Chopped

Red Chili Flakes

Olive Oil

1

Tbsp

Butter
Instructions
Heat 1 tbsp olive oil or butter over stove. When heated, add shallot and cook until translucent. Add in garlic and cook until fragrant, roughly 1 minute. Stir in ginger, chopped bell pepper and butternut squash. Let cook for roughly 5 minutes.

Stir in 1 tbsp of red curry paste, turmeric, lemon juice and coconut milk. Let simmer on low, with lid, until squash is soft (roughly 30 minutes). While soup is cooking, cook quinoa in separate pot. Set aside.

Place cashews on pan and roast in oven, under broil, until fragrant (roughly 1-2 minutes, depending on oven).

When soup is done cooking, pour into blender and blend until smooth and creamy. Add back into pot and turn heat on low. Add in shrimp and cook until done, but not overcooked. You do not want the tails to curl! Depending on stove heat, this could be anywhere from 4-8 minutes.

Pour soup into bowls and top with a heaping scoop of quinoa. By packing quinoa tightly into soup ladle or ice cream scoop, you can prepare a nicely rounded heap for dropping quinoa into the center of your bowl. Top with roasted cashews, chopped fresh basil, and red chili flakes. Lastly, drizzle with olive oil and seriously E-N-J-O-Y.