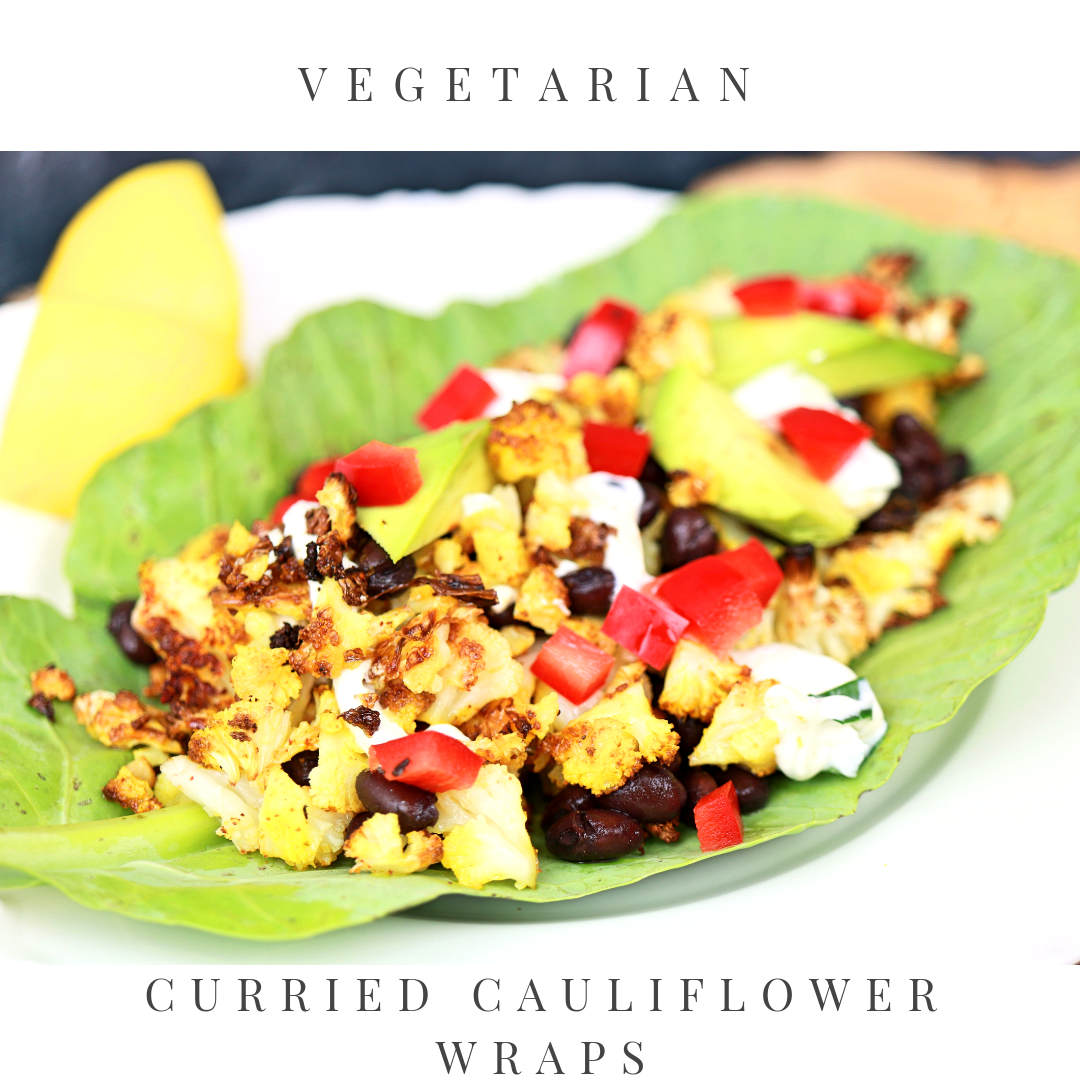 Not only is this curried cauliflower wrap satiating and loaded with veggies, but jammed with flavor. Get rid of that processed grain for a high-powered collard green. Seriously! Bursting with flavor, you are sure to be amazed!
Don't let the list of ingredients throw you off. You are most likely to have the majority of these ingredients in your house already, give or take a few. Simply, flavor and roast a head of cauliflower, mix up a lemon sauce, and throw it all together.
My favorite flavor-punch for this recipe is this delicious curry powder, non-GMO and free of fillers and artificial junk. It's not too spicy and all too flavorful!
If you make this recipe and love it, let us know in the comment below!
Curried Cauliflower Wrap
Ingredients
1

Cup

Black Beans, drained and rinsed

1

Head

Cauliflower

Chopped

1

Bunch

Collard Greens

1/2

Cup

Organic Red Bell Pepper

Chopped

1-2

Tbsp.

Fresh Squeezed Lemon Juice

1/2

Cup

Sour Cream or Veganaise (Vegan Mayo)

1-3

Tsp.

Avocado Oil

1

Tbsp.

Organic Curry Powder

1

Tsp.

Paprika

1

Tsp

Turmeric

2

Tbsp.

Fresh Parsley

Chopped

1

Sprinkle

Garlic Powder

1/2

Tsp.

Oregano

Himalayan Sea Salt
Instructions
Preheat oven to 425 degrees (F). Chop cauliflower into bite sized pieces and spread onto baking sheet. Spread enough avocado oil to fully coat cauliflower. Add 1 tbsp curry powder and 1 tsp of turmeric to cauliflower and mix well. Roast cauliflower until tips are black, roughly 38 minutes, depending on oven.

Meanwhile, in a small bowl, mix together 1/2 cup sour cream, 2 tbsp of chopped fresh parsley, a sprinkle of garlic powder, 1/2 tsp of oregano, and salt to taste. Stir in 1-2 Tbsp of lemon juice, depending on desired tang and consistency. Set aside.

Rinse and dry collard green leaves. Set aside.

When cauliflower is done roasting, spread onto collard green leaf, sprinkle on a generous amount of black beans, chopped bell pepper, sliced avocado, and lemon cream sauce. Wait to be amazed.