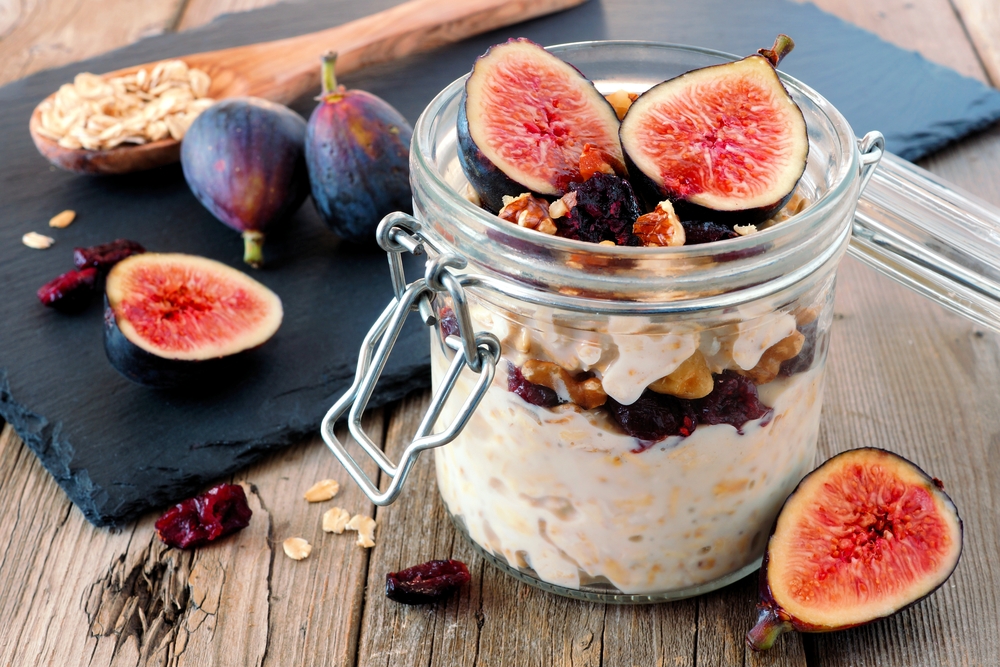 If you are looking for a breakfast that will fill your insides and warm your tastebuds, this is it! The high fiber oats, fresh figs loaded with bone-building minerals, and hint of cardamom to boost metabolic rate, might be just what your morning (or snack attack) needs!
Not your average fruit, figs were actually the predecessor of sugar! That's right, before sugar was popular, figs were often used to sweeten desserts. Rich in fiber, they can also act as a natural laxative, helping with constipation. Figs do contain a higher amount of vitamin K so if you are on blood-thinning medications, just make sure you keep your intake of vitamin -K rich foods consistent, from day to day. Well, enough educating..are we ready to get our recipe on?
The beauty of this colorful and flavorful recipe is that it can be thrown together in a pinch, put to rest in the fridge overnight and voila! Come morning, it will be like the Great British Baker popped out of your fridge!
Note: If you feel like getting fancy, you can always scoop your oats into these adorable (and portable) glass jars. Your family might even think Martha Stewart high-jacked your kitchen! If you want to really wow yourself..add labels!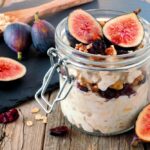 Fig & Cardamom Overnight Oats
Fiber rich oats, bone-building figs, metabolic-boosting cardamom, and omega-3 rich walnuts, all come together to create a nutritious and satisfying breakfast, snack or dessert! You choose!
Ingredients
1/2

cup

Whole, rolled oats

1

tbsp

Chia seeds

pinch

Sea salt

1/4

cup

Coconut yogurt

(Such as Culina)

2/3

cup

Unsweetened dairy-free milk

oat, almond, etc.

1

tsp

Maple Syrup or Manuka Honey

optional

4-6

Whole

Fresh figs, quartered

1

sprinkle

Dried Cranberies

1/2

tsp

Cardamom

1/4

cup

Walnuts

5

whole

Dried dates

pitted
Instructions
In a bowl, combine oats, chia seeds, pinch of sea salt, coconut yogurt and dairy free milk. If you are choosing to add a dash of sweetness, you can add that in as well. However, with the walnut-date topping and dried cranberries, it's not needed! Stir until you have no visible clumps. Cover and refrigerate overnight.

In the meantime, add walnuts, dates, and cardamom to a blender. Blend together until you have a crumbly mixture. Seal and set aside until morning.

In the morning, scoop your oats into a bowl, top with fresh figs, a sprinkle of dried cranberries, and the cardamom and walnut crumble.