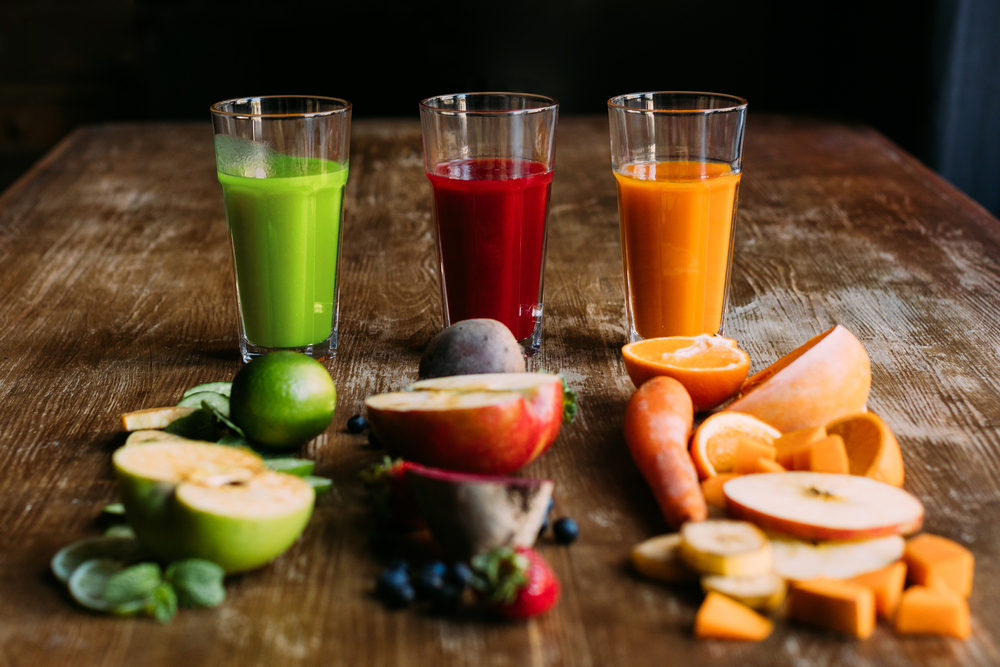 When you think of juice, you might think of a orange or apple…although any toddler might approve, we don't. Try kale, butternut squash, collard greens, bok choy, carrot, broccoli and spinach juice. Exactly. The veggies you don't get enough of become plentiful, squeezed down into a single glass of goodness. You are a small glass away from boosting your immune system, aiding digestion, reducing your risk of cancer, removing toxins from your body, and adding a "glowy" boost to your skin!
Although juicing is not necessarily any healthier than eating your vegetables, how many of us get the required intake of veggies we need? Zero percent, to be exact. Having a juicer is an excellent way to make sure you never waste a precious vegetable again! From sweet potatoes to bell peppers, it can all be turned into liquid gold! What do we want to avoid in our juice blends? Anything with large amounts of sugar. Produce such as apples, carrots, beets, or anything sweet, should be used sparingly. Remember, herbs, fresh lemon or lime (rind and all), ginger and turmeric root, can be used to add a burst of flavor.
Additional benefits? By consuming a large intake of veggies in liquid form, you are delivering nutrients and vitamins such as iron and vitamin C directly into your bloodstream! This also helps to deliver oxygen and boost circulation! Secondly, by getting a large daily dose of veggies, you are helping to offset acidity in the body from the standard American diet, with an alkaline glass of veggie juice. So, no need to spend your money on pH water. Rather, put your money into the gift that keeps on giving..your easy to clean juicer. EASY-TO-CLEAN= key! I have gone through many juicers to find one that doesn't keep me in the kitchen for lengths at a time. Time is precious and I'm not about to devote a large chunk of it to cleaning my juicer. 5 minutes is all it should take, and with a good brand, the money spent will be quickly returned in terms of value! Also, if your all the parts to the juicer are not easily accessible, you risk getting sick from bacteria that grows in the juicer. Years ago, I skimped on price and got severely sick from a juicer that did not allow access to all the internal parts. Never again!
Need more? Juicing has been shown to reduce blood pressure! Beets are an excellent source of nitric oxide and can help with circulation, cardiovascular health, and even sexual wellness! So, if you can't stand to chew this nutritious veggie, try juicing it instead! The beauty of juicing? You don't need a fancy recipe and lengths of time. You don't need to cook your veggies or prepare them! You take whatever you have in your fridge and put it directly to good use!
The greatest benefit most of our patients report back is an increase in energy levels! We get into juicing due to the health benefits, so why wouldn't we expect increased energy levels? Will your car not run more efficiently with premium gas? So too will you! So, yes, it is an investment, but very much worth the price, if you ask me! Your 8 oz. of veggie juice can hydrate your skin, slow the aging process, help you lose weight by replacing empty calories, and I'm just getting started!
Check out our favorite (always raw) juicing-produce.
dandelion
ginger
kale
lemon (the entire thing!)
cabbage
kale
carrots
beets
celery
cucumber
spinach
turmeric root
rhubarb
cauliflower
swiss chard
fennel
sweet potatoes
wheat grass
mint
parsley
broccoli
bok choy
asparagus
zucchini
Want inspiration? Check out our favorite easy-to-clean juicer!