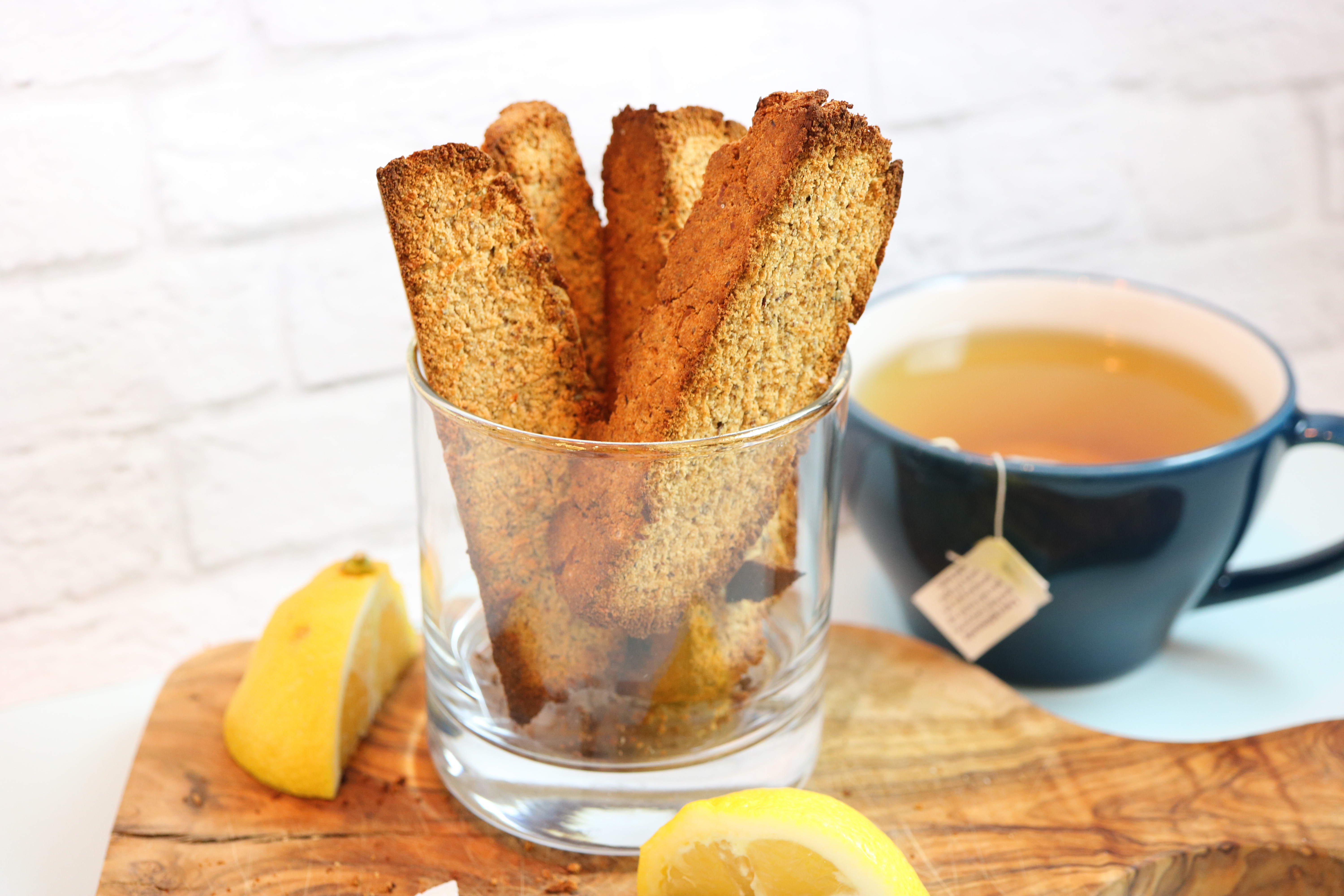 You are only 8 simple ingredients (and 1 bowl) away from the ultimate lemon rusk! This twice-baked British biscuit is the perfect companion to a warm cup of tea. Enjoy for breakfast, snack, or dessert. This recipe provides an ideal burst of lemon (and none of the heavy grain) that will leave you refreshed and energized!
Creating a flawless rusk can be quite a task, when eliminating traditional flours. By combining coconut flour, nut flour, and just the perfect amount of lemon, the ideal rusk was born! Also, did you know that the zest of a lemon contains 10 times more nutrients than the juice? That's right! Lemon zest is loaded with vitamins A, C, beta carotene, magnesium and potassium!
Additionally, because these British biscuits are supposed to be dry and crispy, don't be afraid to let them sit on the counter for a day. It will only add to their desired crispiness!
Note for mom: By eliminating the maple syrup and salt, these could even serve as a great snack for one of baby's first foods! Break up into small crumbles and let her feed herself!
Note for the cleaner in you: After zesting your lemon, don't throw it away! You can use it to clean out your microwave while that rusk is baking! Slice it, throw it in a bowl of water and stick in it in the microwave for 6-7 minutes, on high. Let it sit for another few minutes. When you go to wipe down your microwave, all the muck will wipe right off! Not to mention, it will smell deliciously fresh! You're welcome!
Note for the chef in you: Silpat liners can make any baking experience a breeze! These eliminate the need for butter/oil and prevent your food from creating a sticky mess to your baking pans!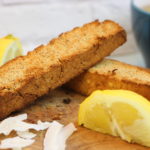 Paleo Lemon Rusks
Ingredients
1/2

Cup

Coconut Flour

1/2

Cup

Almond Meal

2

Eggs

3

Tbsp

Raw Honey

2

Tbsp

Organic Grass-Fed Butter

melted

2

Tsp

Organic Lemon Zest

Zest from 1 lemon

2

Tsp

Ginger

spice

1/4

Tsp

Salt

1

Tsp

Baking Powder
Instructions
Preheat oven to 325 degrees (F). Using a citrus zester or even the fine grate on your cheese grater, zest your entire lemon. Next, mix all ingredients into bowl and use a fork to mash together. The mixture will appear a little crumbly at this point. Pour onto silpat/greased baking sheet and form into flattened mound. Bake for 22 minutes. Let cool for a few minutes and then slice into thick strips. Place back onto baking sheet, preferably on it's side. Bake again for another 20-22 minutes. You want them to appear crispy, but not burnt. Let cool and enjoy with a hot cup of tea!