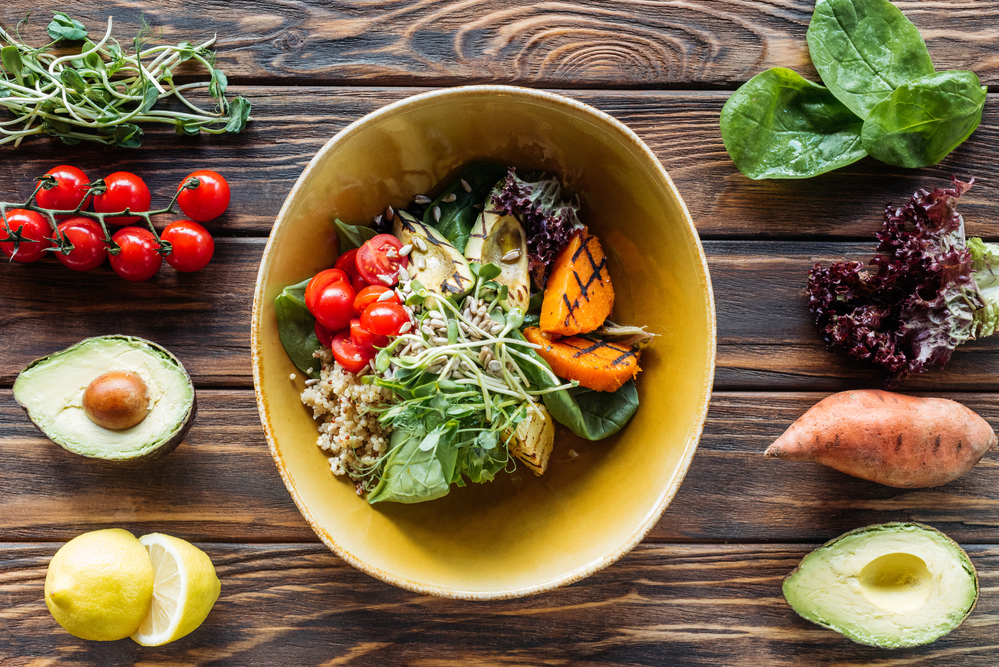 It's a fact. A high intake of vegetables is inversely related with just about every chronic condition. From obesity, cancer, diabetes, age-related disorders, to cardiovascular disease, you name it. So, why do only 9% of Americans eat the recommended amount of vegetables per day? (That's right, that was not a typo. Nine percent!)
Don't Overthink It
It's easy to become overwhelmed by choices. The most common statement we hear from individuals in our clinic is "I don't know what to eat." So many of us go through the effort of making it to the grocery store, stocking up on the right produce, and allowing it to go to waste because we simply don't know what to do with it! The average person has to make 35,000 conscious decisions each day. What to eat should not be one of them!
Keep it Available
The truth is, if you have good food available in your fridge, you will eat good food. The challenge is to overcome our own analysis-to-paralysis. Creativity takes a little courage, but once you realize that you cannot fail, a world of possibility awaits at your fingertips!
Make it Colorful
The secret to a good meal lies in the rainbow. Become color-conscious as you shop and fill your basket with a variety of color. Purple cabbage, orange bell pepper, yellow squash, red tomato, and green chard. Each color contains a different phytonutrient, so be sure to span each shade. For example, red contains lycopene, green contains lutein and purple/blue contains resveratrol.
Get Creative
Be sure to mix it up! It can be human nature to find a combination we like and to not veer from it. I often hear people complain that they are sick of eating salads. With the plethora of flavor combinations available, there is no such thing! Get creative! Each color offers a variety of different textures, flavors, and nutrients.
Red: Tomato, radish, bell pepper and beets
Orange: Sweet potato, pumpkin, carrots, and butternut squash
Yellow: Spaghetti squash, summer squash, and yellow bell peppers
Green: Broccoli, chard, sprouts, and green beans
Blue/Purple: Eggplant, purple potatoes, and purple carrots
White: Cauliflower, mushrooms, garlic and onions
Once you have established your colorful base, it's time to dress it up. Add a source of fat such as nuts, seeds, avocado, olive oil, or fatty fish. Use beans as a great form of fiber to add a satisfying layer of flavor. Black beans, chickpeas, navy beans, and lentils are all excellent companions to your bowl.
If you need a savory layer, consider feta cheese, pesto, or nut-based sauces. Salsa, hummus, lemon, and yogurt-based dressings make for different toppings, but you cannot go wrong with just plain old vinegar and oil! Change it up by throwing in different herbs each day, such as mint, basil, cilantro, rosemary or thyme.
Additional toppings: Quinoa, eggs, shrimp, tofu, sun-dried tomatoes, sardines, fresh English peas, sprouts, micro greens, sunflower seeds, coconut shavings, pecans, parmesan crisps, baked chickpeas, fruit, and dried cranberries.
So, what did we learn? Shop the rainbow, dress it up and mix it up for a variety of different nutrients each day. Don't overthink it! Take what you have, chop it up, and mix it together. Check out the photo's below for some inspiration! You are a fork-full away from feeling energized and satisfied and you are limited only by your imagination!