Yes, oftentimes, we use these frozen treats to hydrate and soothe the throats of our little sick ones. Did you know that the average Popsicle is laden with corn syrup, sugar, stabilizers, gums, artificial X-Y-Z, and dyes? Even so-called-healthier-versions have agave, honey, brown rice syrup, or other forms of sugar. Sugar, in all its forms, feeds inflammation and the cycle of sickness. When little fevers are high, and little bodies are out of commission, the body needs nourishment! With this quick and simple 2-ingredient Popsicle recipe, the word "more" will no longer bring about fear!
Roughly 92% water, watermelons are an excellent source of hydration. Not to mention, this juicy fruit is packed with nutrients; Vitamin A, C, B6 and a load of antioxidants. The addition of fresh lime adds an extra punch of vitamin C. Sore throats are in for a knock-out!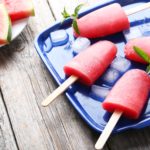 2-Ingredient Popsicle for Sore Throats
2018-02-07 20:05:22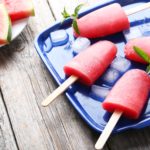 Serves 8
Ingredients
• 4 Organic Limes
• 1/2 Organic baby seedless watermelon
Instructions
Place both ingredients into blender and blend on high, until smooth. Pour into Popsicle mold and freeze.
Fit-Fierce https://fit-fierce.com/
**NOTE:
My absolute favorite Popsicle mold can be found here. This mold is free of all plastics and toxins. It even comes with wooden Popsicle sticks and a freezer tray. With its solid material, it is sure to last a lifetime! Just be sure to dry completely so as to avoid any rust. With this great design, the Popsicle slides right out, without frustration. As a bonus, this mold creates the most beautiful Popsicles! You are sure to impress your mini-ones. In no time, you will be on your way to soothing little sore throats. No longer will you feel threatened by the words "Can I have another Popsicle?" The answer will be an overwhelming, "yes!"