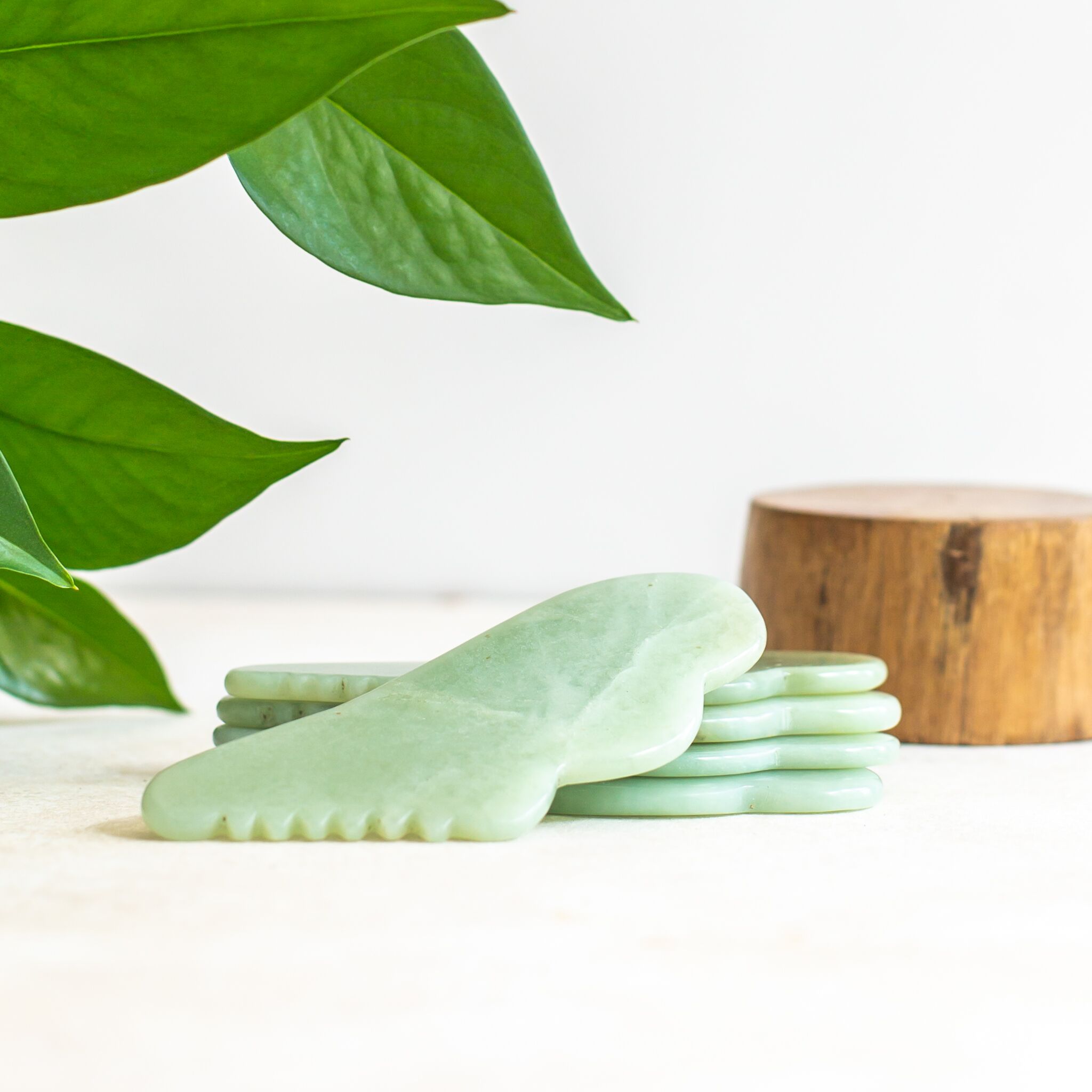 Gua Sha. If this word is new to you, I'm delighted to introduce you to this ancient technique that can visibly transform skin. This simple stone works to promote lymphatic drainage, calm the nervous system, relieve muscle tension & tightness, clear congestion and increase the flow of oxygen and vital nutrients to the skin. Additionally, Gua sha may help to break down scar tissue as well as help with TMJ, neck, shoulder, jaw or facial tension. All in all, it's an excellent way to improve the skin without the addition of chemicals! If this doesn't excite you, the before and after photos certainly will!
What Does the Science Show?
A 2017 study aimed to evaluate the effectiveness and safety of Gua sha therapy on perimenopausal symptoms, quality of life, and blood levels of female hormones in participants with perimenopausal syndrome.
"The results of this study suggest that

Gua sha therapy

was effective and safe in relieving perimenopausal symptoms and improving the

quality of life

in participants with

perimenopausal syndrome

. The therapy may serve as a promising, effective, non-drug treatment for

perimenopausal syndrome

in clinical work."
According to the Journal of Medical Technology and Physical Therapy, another 2017 study concluded that Gua Sha therapy can reduce pain, and improve cervical range of motion in people who have neck and shoulder pain associated with myofascial trigger points, as a result of sitting at a computer all day.
Additionally, a third 2017 study shows that weightlifters who used Gua Sha had quicker muscle recovery. The weightlifters found they could lift the same weight with less effort, after the use of Gua Sha.
Lastly, in older adults with back pain, Gua Sha proved to reduce back pain as much as a hot pack, but the results of the Gua Sha lasted longer. This 2017 study concluded:
"Gua sha may exhibit a more long-lasting anti-inflammatory effect relative to hot pack for pain relief and improved mobility in elderly patients with chronic low back pain."
How to Use
Below is a great "How-to" video explaining the difference between a Gua Sha stone and a Jade roller stone. Hint: Pay attention to Dr. Vand's face after she uses the Gua Sha stone on her left side (your right). Wow!
In essence, choose your favorite facial oil to lubricate the skin and create a smooth surface for your stone. Then, lightly glide the stone in upward motion on the face and downward motion on the neck. My favorite oil and Gua Sha stone can be found here. Primally Pure uses nature's best elements to create non-toxic skincare. The smell, alone, will have you feeling like royalty!
References:
Effect of Gua sha therapy on perimenopausal syndrome: a… : Menopause. (n.d.). Retrieved from https://journals.lww.com/menopausejournal/Abstract/2017/03000/Effect_of_Gua_sha_therapy_on_perimenopausal.10.aspx
Guasha improves the rating of perceived exertion scale score and reduces heart rate variability in male weightlifters: a randomized controlled trial. (2017, March 21). Retrieved from https://www.sciencedirect.com/science/article/pii/S0254627217300262
Saenlee, K., Eungpinichpong, W., & Chatchawan, U. (n.d.). Immediate effects of Gua Sha therapy for reducing neck and shoulder pain associated with myofascial trigger point in computer users. Retrieved from https://www.tci-thaijo.org/index.php/ams/article/view/66337
Yuen, J. W. M., Tsang, W. W. N., Tse, S. H. M., Loo, W. T. Y., Chan, S.-T., Wong, D. L. Y., … Chiang, V. C. L. (2017, June). The effects of Gua sha on symptoms and inflammatory biomarkers associated with chronic low back pain: A randomized active-controlled crossover pilot study in elderly. Retrieved from https://www.ncbi.nlm.nih.gov/pubmed/28619301